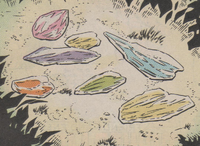 The Crystals were originally owned by Darkhawk.
They are said by Darkhawk to only function properly in Earth's atmosphere, and originally came from Space.
Role in the Spider-Man Series
Edit
Friends and Enemies
Edit
They were dropped by Darkhawk after the action he had with the Mahari (see Dark Hark Issue 47) in Madison Square Park. They are later discovered and give several different powers to people.
These include:
The crystals use the last of their energy to return to their home planet after they are used together by a member of The Hostiles causing the creation of the person into a giant crstaline monster that absorbs the other members of its team.
Ad blocker interference detected!
Wikia is a free-to-use site that makes money from advertising. We have a modified experience for viewers using ad blockers

Wikia is not accessible if you've made further modifications. Remove the custom ad blocker rule(s) and the page will load as expected.